Amelia Bassano Lanier: Shakespeare's Dark Lady.
Saturday, November 7, 2015
A persuasive post on Politicworm: Shakespeare authorship, posits that a) Shakespeare obviously wrote from a male point of view, since most of his roles and plum speeches were for males and b) that that male audience was obviously an Elizabethan courtier (not, say, Queen Elizabeth.) Was Shakespeare a woman
As I began reading Shakespeare sporadically over the years, a play here, a performance there, I dismissed this whole debate. "I think he was an alien," I offered. "I think he wasn't human at all. There's no one else like him."
Shakespeare doesn't define himself in his plays. Yes, he may have known falconry, music and Italian geography. But unlike all the authors on our shelves, Chekhov, Dickens, Austen, Tolstoy, Orwell, Updike, his background is a blank. We can't surmise his position in society from his writings alone. We know Jane Austen must have lived in a country house going to parties. We know Updike was probably a white, educated member of the academic circles of his time.
But Shakespeare. What do we feel we know about him, really? Nothing at all. It's like he's an... alien. If not an alien to our species, perhaps then an alien to the culture in which he was living. In every sense.
And so let's look at what we do know about Amelia Bassano:
Amelia Bassano's family was Italian, living in England.

Her father was Jewish. If she was not actually a practicing Jew, her parentage made her one of the very small population of 200 converso, or converted Jews, living in England.

Her father died when she was only seven, and she was sent, the child of a relatively poor musician, to live with and be educated in the home of a wealthy countess.

In a period when the queen herself powdered her skin with a blend of flour and lead to appear even more pale, Amelia was described as "dark" and "dun".

When she was 13, she was sent to be the mistress of a man much older than herself, rumored to be Queen Elizabeth's illegitimate first cousin.

When she became pregnant almost ten years later, she was given a sum of money and sent back to her family, to marry a cousin.

The cousin lost all her money over a period of years by bad investments and then died.

The cousin's family refused to give her her share of the estate. She had to sue them.

She ended up taking jobs teaching to support herself.
Literary characters defined by their alienation from their settings give them the humanity that draws us to their plights. Holden Caulfield and his uncanny ability to perceive phonies; Elizabeth Bennett's fondness for poking fun of her contemporaries; Winston's rebellion against Big Brother. We appreciate these great writers who created characters who looked around themselves and questioned the status quo.
We appreciate them, but none of them are Shakespeare! Which goes back to our problem: who was Shakespeare! I posit that he was someone who was so alienated from the world in which he found himself that he was able to bring a hawk's eye view to the world stage about which he wrote. And who would be more alienated than a poor, highly educated dark-skinned woman living at court (for a while) white man's world?
Friday, November 6, 2015
Tickets to Measure for Measure were the only ones I could get at late notice; Richard III was sold out. Measure for Measure had never been of any particular interest to me. I'd never heard it quoted. I'd never seen a performance of it. To my knowledge no producer had tackled it with the kind of blockbuster recreation that would give it new life. But I rented my chair cushion and off we went to the Globe for an afternoon of being transported, hopefully, to the nearest thing we could get to a performance at Shakespeare's real Globe Theater. Off we went for a four hour session, thankful for our cushions and amazed at the performance, which still lingers in my mind.
Measure for Measure is described as a problem play rather than a comedy or romance, I suppose because it presents a problem to the viewer, like what the heck is this play supposed to be about?
Here's the problem M for M presented me with: How did Shakespeare write such strong roles for women? The set up for this problem play is simple: The Duke of Vienna decides he's been too slack, so he pretends to leave town, delegating the job of tidying up the low moral standards of his town to his reliable buddy Angelo, who turns out to be a creep. He immediately condemns Claudio to death for getting his fiance pregnant. (They were almost married -- there was a legal complication. They intend to marry.) Claudio sends a friend off to urge his sister Isabella, who is on the verge of becoming a nun the next day, to argue on her brother's behalf. Evidently she's a regular golden tongued Portia.
So she begs for mercy for her brother from cold hearted, self-righteous Angelo, who promptly falls in love with her. He offers her a bargain. If she sleeps with him, he will release her brother. She sees this as a choice between her brother's immediate execution and her eternal damnation, and eternal damnation doesn't look that good to her. Of course, it looks OK to her brother.
There are some fun comic characters in M for M, but for the most part, the real drama of the play all revolves around Isabella and the choice she must make. The brother is, for the most part, offstage. The Duke is almost a zany, with his bedtricks and headtricks. The court fop is an absurdity.
The women, by contrast, are victims:
Claudio's fiancee Juliet is almost at term, and Angelo has condemned Claudio to death.
Angelo's former fiancee Mariana was dumped five years earlier by Angelo when her brother and her dowry went down in the same catastrophic wreck at sea. Angelo never spoke to her again.
Isabella is expected to sacrifice herself for her brother. This is the real problem of this play. Should a woman allow herself to be victimized for another, to the extent of submitting to what she believes will be eternal damnation?
The framework of the play, the comic relief supplied by Mistress Overdone and Elbow's errant wife, only served to emphasize what Isabella's position would be in society if she gave herself to Angelo. The fact that he admitted in an aside that he had no intention of freeing her brother afterwards only emphasized her need for strength.
The play was beautifully presented and I thoroughly enjoyed being in the Globe. But I came away that evening feeling that I had just seen a play dealing with women's issues to an extent one rarely finds in literature today. That night I went to my friend Google and typed "Shakespeare was a woman". Amelia Bassano's name popped up in the
Globe and Mail article, "Was Shakespeare a Woman."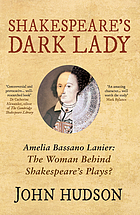 Agreed, John Hudson does not make his case for Amelia Bassano having written the works attributed to William Shakespeare. (Whom he coyly refers to as "Mr. Shakespeare".) I found quite a bit of speculation in his book disguised with "could haves" and "it seems". Amelia might have gone to Denmark when she was at court. She might have gone to Italy afterward with her relatives. But did she?
Sadly, documentation just isn't there. For any of the candidates. This blog will not deal with judging the fascinating and excellent research being done in the field, but just how I feel about the plays, with the idea that they were written by a woman.